Digital publishers seemingly face a dilemma between protecting their audiences from malicious, disruptive, and offensive ads, or having to sacrifice revenue by ruthlessly cutting sources of low-quality demand. Some publishers open the floodgates to all ads – exposing themselves to high volumes of user complaints, decreased brand loyalty, and valuable time lost to manually investigating and stopping bad ads. Other publishers are overly aggressive in blocking ads and undermine their profits by needlessly severing connections to valuable sources of revenue. The highly customized creative verification needs of most successful publishers lie somewhere between those extremes.
Effective ad security and ad quality solutions allow publishers to balance the opportunities and threats by identifying bad actors and preventing malicious or low-quality ads from sabotaging their user experience. Multiple vendors provide these solutions, but their capabilities vary in scope and completeness. What is important to one publisher might not be important to another. The first step in choosing a creative verification solution is to determine your specific tolerance for quality and security risks. For example, what kinds of ad categories, if displayed, could damage your business? Does your audience have any particular sensitivities that must be considered? Do short-term revenue goals supersede long-term growth?
5 Key Questions to Ask a Vendor During the Vetting Process
As publishers begin conversations with potential ad security and quality vendors, it's critical that they ask each vendor the same set of questions to objectively compare the pros and cons of each solution:
1. How does the solution protect publishers from new threats as malvertisers shift from redirects to more sophisticated attacks and tactics?
2. What level of security experience, expertise, and threat intelligence data does your team possess – and how much security research have they published?
3. How easy is it to integrate your solution, and can it seamlessly support my unique ad stack and customizations?
4. Is your solution simple to use or will I need to invest time and money in training my team?
5. Can my team gain immediate insights into the source of issues and the relative performance of different SSPs?
The final question is particularly important because a company's security acumen represents how seriously they take malvertising as a threat to digital publishing. Look for vendors who are actively seeking out and exposing new threat actors as they appear. A complacent vendor might be the last to know about the latest threats and industry trends, putting your brand and audience in danger.
The Two Aspects of a Full-Spectrum Solution

Ad Security
Ad security threats, which can result in hackers stealing passwords or private information, tracking the user's keystrokes, or scamming the user out of money, represent the greatest risk to audiences. As of 2019, 16% of ransomware infections worldwide were delivered via malicious ads and websites.1
These evolving threats include malware, forced redirects, and sophisticated criminal scams like FizzCore. To protect their users and bottom lines, publishers require a sophisticated solution created by a team with cutting-edge security knowledge.
Learn more: The Evolution of Malvertising and its Impact on the Future of Publishing
Ad Quality and User Experience
Publishers must secure their reputations and drive brand loyalty by ensuring that ads on their sites do not disrupt the user experience. Depending on the site, audiences have varying tolerance for low-quality ads. A tabloid news website, for example, may get away with having more intrusive ads than a large publisher with multiple revenue streams. Premium publishers must be far more disciplined and protective regarding the quality of ads and their impact on users, as they have much more to lose if users flee in frustration.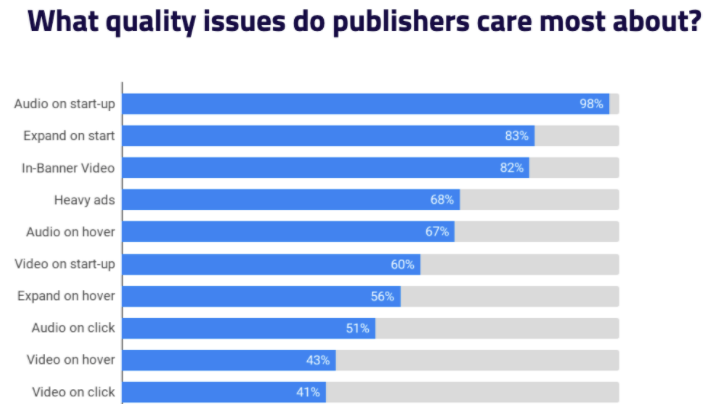 Ad quality issues that can turn into costly problems for publishers include ads with automatic video and audio, heavy ads that slow down the load time of the website, and ads containing inappropriate subject matter such as adult content or ads for competing brands. Publishers must protect user experiences by implementing ad quality solutions that block ads in real-time based on custom criteria selected by their in-house team.
Seek Out Robust Reporting Capabilities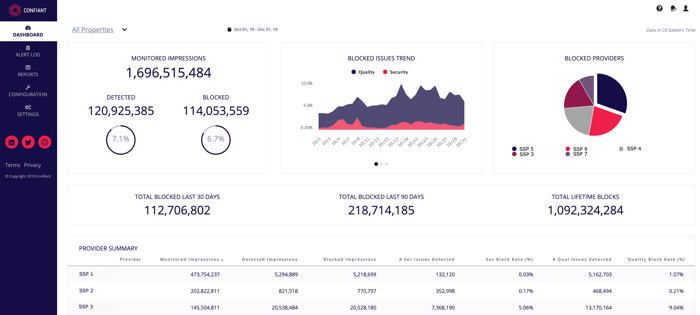 Strong reporting capabilities are a critical component to contextualizing ad security data results and quality insights. To make informed decisions, publishers need to immediately understand how exposed their audiences are to threats and low-quality ads. Quickly identifying and tracking threats and ad quality issues – especially the sources of these ad threats – is paramount to securing the user experience and preventing revenue disruption.
Publishers typically work with 10-15 supply-side platforms at any given time. Some SSPs do a sufficient job of sending only high-quality ads, while others often lack the resources or will to maintain an adequate level of quality to protect a publisher's audience. To effectively diagnose issues and identify trends, publishers must fully understand which SSP sources pose a greater risk when it comes to different quality-control objectives.
Detailed diagnostic reports identify the SSP behind the bad ad and capture the creative ID, allowing publishers to quickly understand which demand sources are high-risk – and which are not. Armed with that information, a publisher can determine if working with the SSP in question is worthwhile. Turning off an SSP that consistently sends malicious ads can save a publisher valuable time while also protecting the publisher's brand reputation and the end-user's experience. However, the ideal solution allows a publisher to work with a wide variety of SSPs knowing that they are protected against security and quality threats.
Introducing Confiant's Comprehensive Ad Security and Quality Solution for Publishers
Confiant helps publishers safeguard their audiences, reputation, and revenue streams by automatically identifying and blocking malicious and low-quality creatives in real-time. We empower our users to first consider the needs and sensitivities of their audiences, and then set and manage their criteria to ensure the right ads are presented to the right people.
By gaining full visibility into and control over the quality and security of every ad served, publishers can focus on growing incoming revenue streams – instead of wasting time fighting revenue disruptions.
By working with Confiant, you'll gain a strategic partner whose forward-thinking research and industry expertise have been recognized by Mozilla and Google.2 In fact, just earlier this year, Confiant was widely praised for uncovering a new threat to the industry called FizzCore that blurs the lines between malvertising and deceptive ads.
Learn more by downloading our latest Demand Quality Report, which reveals the current state of the digital ad ecosystem and how publishers can best protect their audiences. You can also test our solutions by requesting a free 14-day trial of our solution, complete with our latest brand and category controls.
---
Sources
1 https://www.statista.com/statistics/700965/leading-cause-of-ransomware-infection/
2 https://blog.malwarebytes.com/threat-analysis/2020/01/woof-locker-stealthy-browser-locker-tech-support-scam/