Today, we're excited to announce the beta release of Confiant's Brand and Category Controls, the latest advance in our mission to put publishers back in control over their ad experience.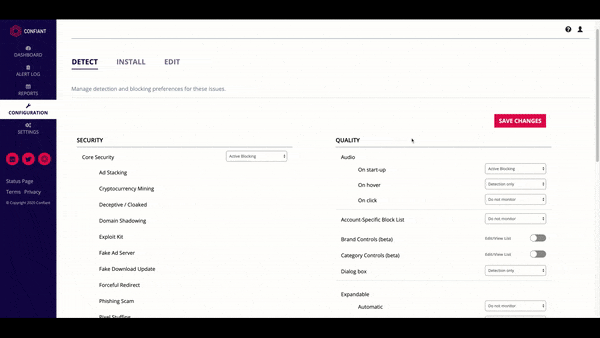 Part of our continued efforts to make digital media safe for everyone, the latest series of enhancements to our platform give publishers the ability to detect and block ads associated with over 225,000 brands and 100 categories in real-time.
Improving your overall ad experience
We built Brand and Category Controls in recognition of the challenges that publishers face managing the contextual suitability of ads being served on their websites, particularly in programmatic. Whether it's a political ad with a divisive message, a McDonalds ad serving on a vegan blog, or a lingerie ad appearing on a kids site, the content of ads can have a huge impact on how your audience experiences your site. Offensive or inappropriate ads can drive away users and tarnish your brand.
In a survey conducted by AdColony, 60% of users said offensive content negatively impacts the way they view the platform it appears on. This can result in an increase in site bounce rate and lead to users completely avoiding the website. Preserving the website experience for audiences can be a difficult task, and publishers must consistently provide high-quality, relevant ad content. Ad content is an area that is easy to overlook and difficult to regulate but needs to carefully be considered.
Most SSPs offer some form of brand and category controls to their publishers, and we encourage publishers to continue to utilize these controls as a first line of defense. We built our Brand and Category Controls as a failsafe in the event that your SSP partners misidentify and serve an ad that violates your blocklist.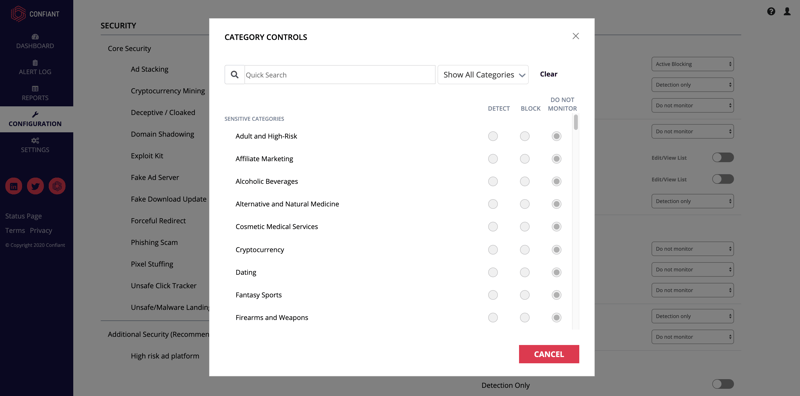 Confiant's Brand and Category Controls provide preventive measures to keep unwanted ads out. Our technology detects unsuitable creatives before they render on page, and gives publishers the ability to block and replace a bad ad with an alternative ad that's safe and appropriate. This prevents any disruption to revenue while ensuring a safe and positive user experience.
Getting access to Confiant for Publishers
If you are a Confiant publisher, you already have access to the Brand and Category Controls beta. Just log into the platform and set up your rules.
If you are not currently a Confiant customer, request a demo today and try out our new Brand and Category Controls free for 14 days along with our full platform, which helps you increase time spent on page and drive revenue by securing your site against security and quality threats.
Confiant is the preferred vendor for real-time ad security and ad quality solutions for publishers, protecting over 30,000 sites.
We can't wait to hear your feedback. This is just another key milestone in our mission to empower publishers to provide a safe experience for their users.